PolarStar Sea Kayak
Fast and Responsive ~ Deep "V" Hull ~ Smooth Lines
"People's Choice Award" at Minn. Canoe Assoc. Builders Show 1999
Seattles boat show best wooden Strip Kayak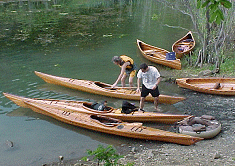 Like almost all of today's modern sea kayaks the Polar Star is a hybrid boat. It looks like a modern sea kayak, but it has the good looks of the old Greenland kayaks. The Polar Star was designed for the beginner to the experienced paddler.
The Polar Star is 18' long, is fast, has a narrow 22" beam, and is very responsive with 1¾" of front rocker and 1" in the stern. The 2¾" waterline gives this beautiful kayak a 16' "foot print" with a 190-pound paddler aboard.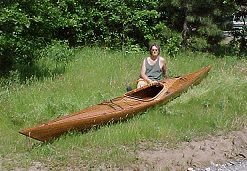 The moderately shallow hull design and its narrow width hull, soft chine, along with a deep "V" bow and stern makes for a smooth entry though the waves. The Polar Star's unique bow has a little more flare above the waterline so the boat is lifted up by the waves. The narrow "Greenland" bow provides for a faster ride in waves, has less wind resistance, which reduces weather cocking.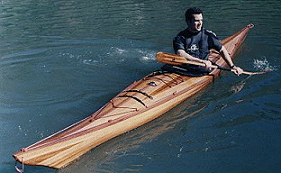 The hull is "Swedish designed" meaning the paddler sits aft of the center, which reduces the paddling effort in waves, and provides for a drier ride when the going starts to get fun. When paddling in challenging seas the Polar Star almost paddles itself. In other words just let the boat respond to the waves naturally instead of fighting it. The Polar Star has a moderate initial stability, and because the hull is flared the entire length of the boat from the waterline up to the sheerline it has great secondary stability.
The cockpit opening is a keyhole designed like the one used in many of the English boats. This allows for an easy entry and exit, it keeps the over all opening area to a minimum. However, the keyhole cockpit design allows for you to raise your knees from a seated position for that all-important stretch break. This is helpful on surf launchings as it doesn't let in water as much water due to the narrower opening. It also allows for comfort on long trips where it allows your knees to be raised from the seated position.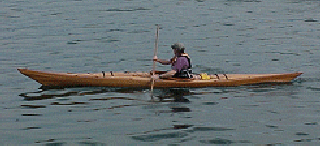 Hatch covers are designed to fit flush with the deck so as to keep the smooth looking deck lines. When the waves wash over you deck or you pearl into a large wave, these flush hatch covers keep the water from splashing onto your face, unlike the hatch covers that are constructed like a lid of a shoebox. The hatch openings are large enough for you're hard to pack gear i.e.; tent, air mattress and other gear bags. The hatch covers sit on a lid with a rubber gasket so they are water tight and securely sealed. And finally the weight is important (around 45 lbs) not only for paddling but the all exhausting carrying for the car to the shore.